THE ORIGINAL CY-HAWK TROPHY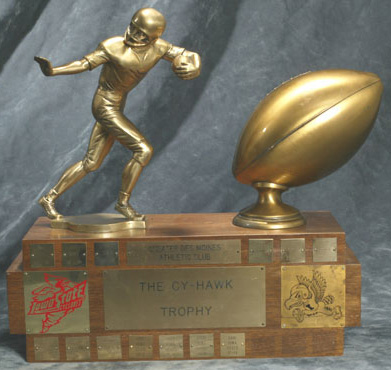 The trophy design used through the 2010 season featured a football, a running back in the classic stiff-arm pose, and the likenesses of Iowa State's Cy the Cardinal and Iowa's Herky the Hawk. The trophy was retired after the 2010 game and is to be displayed permanently at the Iowa Hall of Pride in Des Moines, Iowa.
A NEW CY-HAWK TROPHY…ALMOST
A new trophy, donated by the Iowa Corn Growers Association, was introduced to the public during the Iowa State Fair on August 19, 2011. A sculpture atop the new trophy depicted a farm family with small children huddled about a bushel basket of corn. Dean Taylor, president of the Association, called it "a work of art that represents Iowans and their hard work." Within hours of its presentation, however, the new trophy was widely ridiculed in newspaper columns and internet postings by the public. Iowa Governor Terry Branstad publicly provided negative feedback, as did retired Iowa football coach Hayden Fry, who said, "The farmer, family and corn is all wonderful, but I don't really get the relationship to a football game."
TEMPORARY CY-HAWK TROPHY IN 2011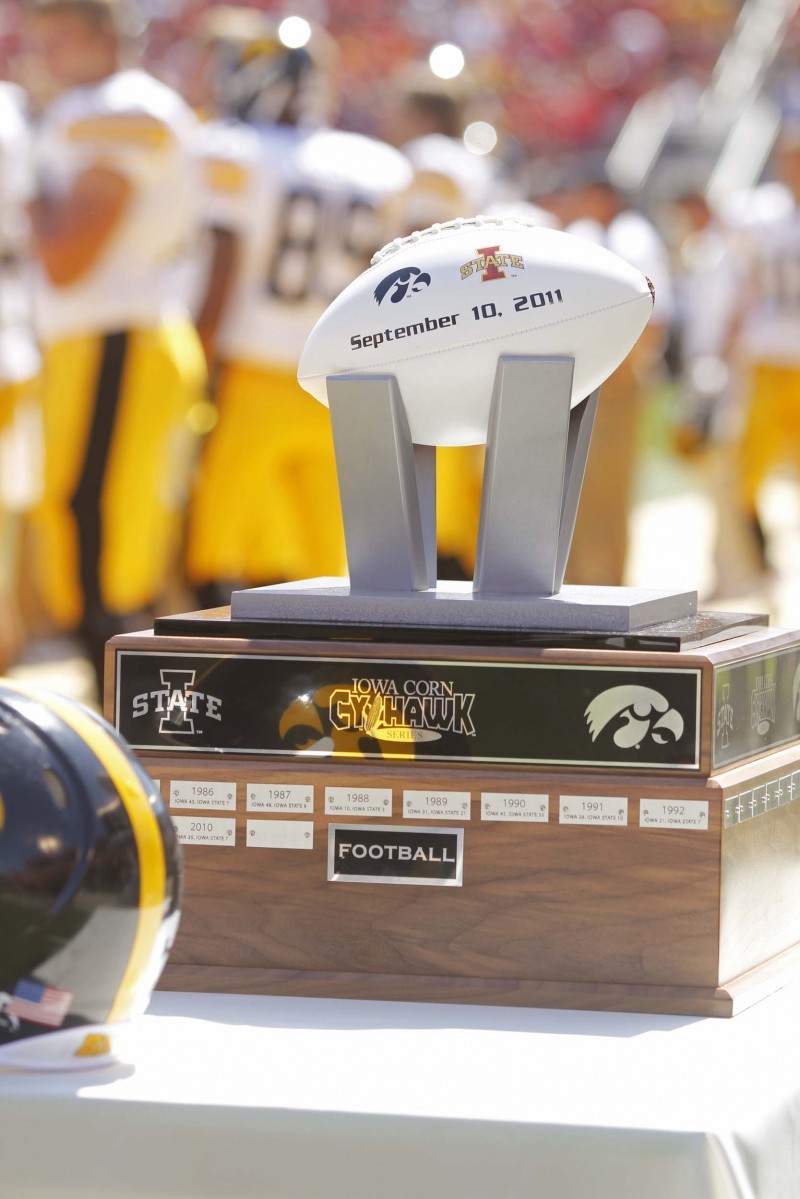 On August 23, 2011, Iowa Corn Growers Association CEO Craig Floss announced that the new Cy-Hawk Trophy would be changed as a result of the negative public reaction. Selection of the new trophy would involve public input.  A temporary trophy was used for 2011.
THE NEW (CURRENT) CY-HAWK TROPHY
With fan input, the newly, redesigned trophy was unveiled at the conclusion of the 2012 game won by Iowa State featuring mascots of the two universities, a raised football, and corn making up the background.